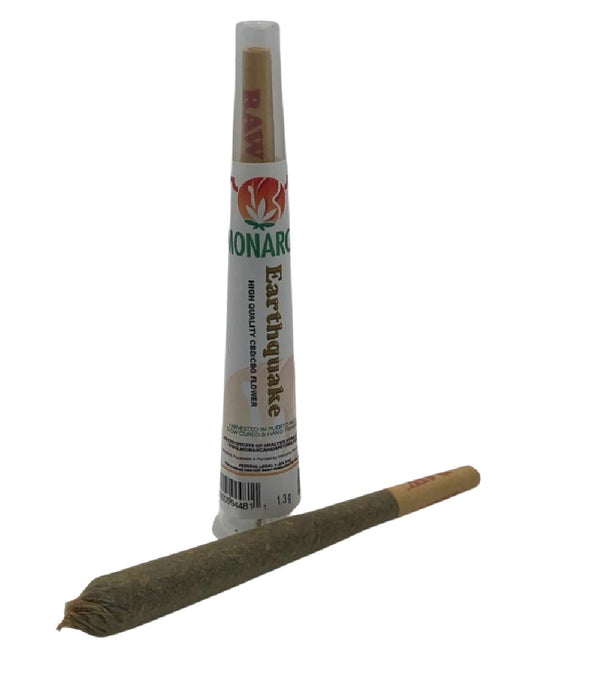 Whole CBD/CBG Premium Pre - Rolls made of Hemp Paper
Tasting Notes: Superb earthy, buttery taste with a sweet vanilla aroma.
Monarca Hemp was grown and hand-picked with love in Puerto Rico. It contains valuable cannabinoids, predominantly CBD - cannabidiol. Premium quality is due to taste and aroma, thanks to an extra slow drying method and hand selection of the best quality. It does not act narcotically.
Hitting your mind like an earthquake, the hybrid cannabis strain Earthquake bares a scent and taste that's earthy with diesel and pepper undertones.
2+% CBD (CBD+CBDA)
3+% Total Cannabinoids
1.3 Grams Outdoor Grown CBD Hemp Flower
100% Hand Grind Flower Buds
Cold & Slow Cured
Ships In 100% Smell Proof Tube, Hermetically Sealed.
3rd Party Lab Tested for Purity and Legal Compliance
No pesticides, No additives
Cultivated In Lajas, Puerto Rico, near the Caribbean Ocean.
Our high quality CBD flower is grown and harvested manually using the best agricultural practices.
State and Federal Legal < .3% THC. This product has not been evaluated by the FDA.
Includes 1 Pre-Roll